Day 4 - Singapore (ooh, that rhymes)
Posted : July 25, 2015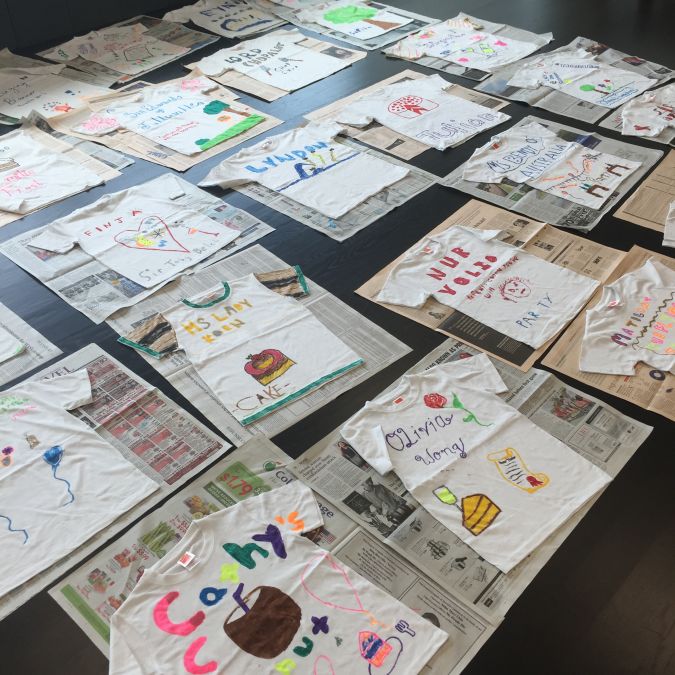 We all shook ourselves awake, went for a quick imaginary swim and rose to the challenge of Red Lorry/Yellow Lorry. Then, while some of the puppets were finished off, the rest of us went straight into collating ideas for some of Feste's words for our sharing. (ALL of the ideas and lines went straight into the show because they were so great..). Next up was Four Corners, to perfect the Shakespearean lines setting each location.

We then started to piece together all the games/images/scenes from the week into a bizarre, sometimes abstract, exciting version of Twelfth Night.
New things we added today included a group of Festes introducing themselves, presenting the piece and explaining how the week unfolded; creating the physical image of the boat in the storm and working on the scene with Captain, Sailors, Viola and Sebastian; modelling 6 Violas into becoming Caesario; staging the three main scenes; a group of Festes working as chorus flocking like birds; a mini, silly fight scene; mirroring pairs in the background while 5 Festes talk about Shakespeare comedies, love and the weddings at the end of the play; all the Feste's reciting "When that I was and a little tiny boy" in a group to close... Easy.
In amongst all of this staging, the children also managed to design and paint their own t-shirts. On them they put either their Shakespearean name or their real name and an image of something they loved about the play. So many gorgeous, varied images of boats in storms, hiding in box-trees, cakes and ale...
What a day. And we're all completely calm and confident about the showing tomorrow. Yes we are.